5 Cheapest Hotels in London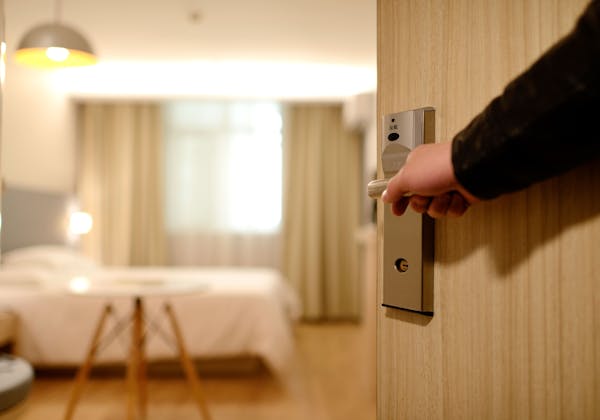 Staying in the capital city of England does not have to mean blowing your budget or sacrificing quality. In this roundup of London city's greatest budget boltholes – which are priced at less than £150 per night – you can find cheap hotels in London that don't skimp on fashionable amenities, with everything from rooftop patios and pools to comfortable beds and amenities that makes your stay feel like a home away from home, coupled with accessibility to central London. Bloomsbury, The City, Shoreditch, and Wimbledon are among the locations that will provide you some of the best cheap hotels east London can provide.
Mimi's Hotel Soho
Located in Soho, London, England, Mimi's hotel is located above a bar in the centre of Soho and it offers a vibrant and reasonably priced base from which to explore the city. In its on-street bar, Hensons, the hotel mixes high-tech engineering with a dark, velvety 19th-century ambience. There is a stylish gold and mirrored elevator to the bedrooms, as well as an appealing marble staircase. The seven Lux'suites' are the biggest rooms. They are not suites: they are tiny and boxy, yet functional and have nice bathrooms. The Cosy rooms are even smaller, followed by the Tiny Singles, which are more like couchettes. The rooms include excellent insulation, specifically filtered water, underfloor heating, and fog-free mirrors in marble bathrooms.
Prices start from£144 per night.
Assembly London
The Assembly London is located around Leicester Square in London, England and its prices start From£96 per night. This West End budget beauty has gone viral. Its modest but comfortable rooms, outstanding location directly next to Leicester Square, décor influenced by some of the greatest British fashion icons, and access to the beautiful orangery-style rooftop restaurant Bourne & Hollingsworth will make it a hit with city-hopping millennials. The rooms (Snug, Nest, Pad, and Den) are all greyscale, with geometric carpeting, leather buckle headboards, and dog tooth-style pillows. Budget doesn't have to mean sacrificing comfort; squishy beds feature Hypnos mattresses and Egyptian cotton linens. There are several theatres, restaurants, pubs, museums, and clubs within walking distance of the hotel.
Z at Gloucester Place
With prices starting from £72 per night, the Z at Gloucester Place is located in Marylebone, London, England. This stylish collection of renovated Georgian townhouses on Gloucester Place is light years ahead of the majority of London's cheap hotels. The rooms are basic and comfortable, the staff is kind, and the complementary cheese and wine offering every evening is the icing on the cake for an already great and reasonable stay in Marylebone. It's a 10-minute walk to Baker Street and Marylebone Underground stations (which serve many lines) and a short walk to the Sherlock Holmes Museum, Madame Tussauds, and Selfridges on Oxford Street (all of which are 10 minutes away in different directions).
The Zetter Hotel
The Zetter hotel is a colorful boutique hotel located in the innovative Clerkenwell with locally inspired features that characterizes the city of London, England. Many things, including many excellent restaurants, are within walking distance of the hotel. Exmouth Market (a pedestrianised strip with eateries like Moro) is within a five-minute walk away. Don't expect a formal experience; the relaxed environment complements the hotel's décor. Dark colors, thick rugs, floral designs, and primary colors are used in the rooms. Think melting smoked ham hock croquettes, a velvety risotto of Jerusalem artichokes and truffle, and a zingy cured sea bream tartare with lemon purée. Prices start from£195 per night.
Strand Palace Hotel
Located in Covent Garden, London, England, the Strand Palace, which opened in 1909, was once an Art Deco jewel – a few items remain, and its beautiful foyer is now housed at the V&A Museum as a memorial to what was terribly lost. Its 785 rooms are spread across nine storeys and are designed around six inner courtyards; those facing inwards are often quieter. Because it is so huge, it can feel like a mini-planet at times, and you may forget that there is another world outside. Covent Garden's shops, restaurants, and theatres are to the north, with Waterloo Bridge, Charing Cross, and the Thames to the south. If you want to do a lot of sightseeing and/or partying, this is a terrific option. Prices start from from£147 per night.
High Road House
Sitting proudly in Chiswick, London, England, High Road House is one of the cheap hotel east London offers. Ilse Crawford developed this members' club (part of Soho House) for creative professionals, which also offers hotel rooms to the general public. It offers the perfect balance of self-assured flair and relaxed charm: imagine Scandinavian accents and beautiful hand-painted wallpaper. The ambiance is warm and inviting, and the staff is youthful, calm, and eager to assist. Expect airy, fresh, and very basic rooms with wooden coat pegs around the walls for hot-water bottles, hairdryers, and clothing. The drawers include complimentary nibbles, beverages, and Cowshed spa goods. A bustling Parisian-style Brasserie below serves everything from spaghetti to leek and artichoke pie. Staying a night in this calm and serene place will cost you from £120 per night.