People Also Search For – A Brilliant Way To Gain Visibility On SERPs
People Also Search For Or People Also Ask: If you've closely observed the Google results page for any query, you might've taken note of a specific section known as 'People Also Search For'. Sometimes, Google presents this section when you search for something.
With Google frequently updating search pages to keep them dynamic and informative for the user, one can also feel overwhelmed with these updates.
However, while we can't present all the information for all the updates in one blog, this blog should provide you with ample knowledge on the 'People Also Search For' (PASF) section. Read this blog until the end to understand this specific feature of Google extensively.
People Also Search For and People Also Ask: What Is It Exactly?
In 2012, Google introduced knowledge graphs to display a group of thumbnails associated with a specific search term. However, over time knowledge graph became a separate entity on the search page associated with specific search terms such as when you search for a person online.
Today 'People Also Search For (PASF)' or 'People also ask (PAA)' doesn't display thumbnails but rather displays associated search terms with the actual keyword searched. Like this –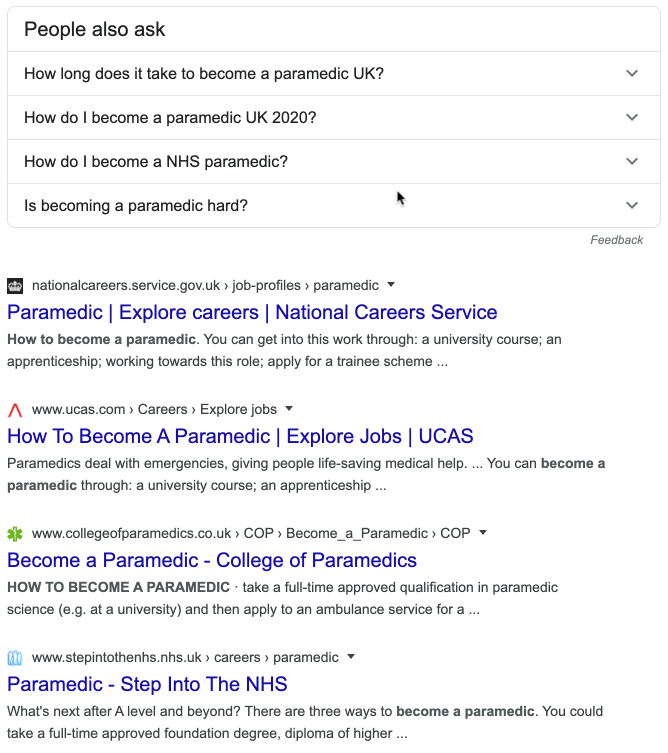 For instance, if you search 'SEO Reseller' on Google, you might get search terms like 'What is an SEO Reseller', 'Is it worth it to pay someone for SEO', and more in the People Also Search For' section. Most commonly, this section appears just below some of the paid and organic search results.
With helpful associated search terms, Google aims at resolving the user search query quickly. If someone can't find a specific answer to a question, they can certainly look it up in the 'People Also Search For' section. All these suggestions are possible because Google focuses on user search intent aiming to solve the user search query as quickly as possible.
Moreover, you can optimize your content for featured snippets as well as 'People Also Search For' simultaneously.
Thus to reinstate, 'People Also Search For' is a Google search page section that presents to the searcher the related terms associated with their search. Usually, this section appears after limited paid and organic search results. With this, Google aims at resolving the search query as quickly as possible and making the search more refined and swift.
Most importantly, this search feature doesn't appear for every search. To make it visible for each search, you can make use of specialized tools which you will see later in this blog.
Some Pointers To Keep In Mind
These are some of the essential things you should keep in mind when it comes to 'People Also Search For':
There's no fixed position for the 'People Also Search For' section. Though this section appears after certain paid and organic results, the position is not always fixed.
Usually, after clicking on any of the suggestions a new tab gets opened with various website pages. The ones that provide relevant content are the ones that appear in the new tab search results. Answers may be available in various content formats. From paragraphs to tables, to even videos, Google aims at providing the best answer possible for the queries in 'People Also Search For'.
Don't confuse this with 'People Also Ask' or featured snippets. With featured snippets, 'People Also Ask', Google aims at providing the answers to the user on the SERP or search engine result page. 'People Also Search For' does the same that becomes visible on some searches but mainly through specialized tools.
The Simple Benefits Of Optimizing For People Also Ask
People Also Ask can help a website gain visibility if it's dealing with low traffic. Specifically, optimizing content and getting featured in those sections can help a website increase visibility and traffic. Some of the major benefits of optimizing for 'People Also Ask' are:
1. You Can Reduce Your Bounce Rate Significantly
People getting bounced off your site isn't a good thing. A lot of it has got to do with content. When a page content fails to answer or solve user intent, people usually leave the page and go to some other source that can provide them with better information.
Answering as many questions as possible in your content can lessen the bounce rate. If you're lagging in traffic on specific keywords, you should look at the 'People Also Search For' section and try and address those questions in your content. Answering those questions can significantly reduce your bounce rate as it solves user intent or query wholly.
If you're having any doubt as to what to write, and what content style to adopt, you can always research your competitors for ideas. Just don't copy them.
2. Helps In Identifying Keywords
Often content marketers struggle with finding relevant topics to write on to keep the users engaged. However, with PASF, this task becomes relatively easier as it suggests related topics to the main keyword. A lot of secondary keywords or LSI's can be generated from this section.
With People Also Ask, Google provides answers and website links to the questions associated with the keyword. You can visit the website link and read the blog, identify keywords and try and develop similar content for your website.
In short, the more queries you resolve for your reader, the better your website content is and the more beneficial it is for the website. Topic pillars could be established, and the overall content of the website could be made more diverse.
3. Better Website Authority
This section keeps on expanding once a searcher starts to click on it to find answers. More questions and their answers are automatically added, once a click has been made. Usually, 2-4 questions appear at the start. However, if you click on any of the questions to look for an answer, more questions are automatically added.
Getting these many questions can be extremely beneficial for a business. You can use those questions and answer them on your website content to attain huge traffic and authority. The more problems or queries you solve for a user, the more authoritative and trustworthy a website becomes. Such websites enjoy high user engagement, less bounce rate, and a constant flow of traffic.
How To Optimize For People Also Search For?
With the many benefits of PASF, one may wish to know how they can rank for that spot. Well, here are the tips that you can follow to show up in the 'People Also Search For':
1. Identify Crucial Key Terms
By identifying the crucial search phrases or questions and including their answers in your content, you can easily optimize your content for PASF. You can make use of tools such as Answer The Public or form questions around your keyword to optimize your content for People Also Ask. Reorganizing pages as per this rule can help your website rank higher.
2. Utilize FAQs
Simply addressing common questions incurred by people can help your website appear in the People Also Ask. Include a FAQ section and answer the most commonly asked questions. Doing so would make the user read more as it answers or resolves their search query extensively. Thus, including the FAQs section on your website can help your website immensely and also stands a chance to feature in the PASF.
3. Build Content Around People Also Search For
By building content around the frequently asked questions or questions that appear in the 'People Also Search For', you can effectively get your website placed higher. Write simply and frequently include terms like why, where, what to acquire high traffic, and a featured spot on the PASF.
4. Do Competitor Analysis
If your competitors are getting frequent features in the People Also Ask For, it's worth taking a note or two from them. Observe what they're doing right and finally implement it in your strategy. Utilize content based on what they are doing right, and execute it as per your business strategy and goals.
5. Understanding The Search Intent
It's important to have a group of primary and secondary keywords and build content around them. Realizing the search intent and accordingly optimizing keywords and their related search terms on your website can prove to be fruitful in the long run. Well-thought-out content ideas, optimization, and the right keywords are the key to getting featured in the PASF.
What Tools To Use To Recognize PASF and PAA Keywords?
Here is the list of tools that you can utilize to find 'People Also Search For' keywords:
1. Google SERP Keyword Tool For PASF And PAA:
The search engine itself is the biggest source to gain keywords from. Relevant other queries often become visible whenever you search for something on the search engine. Utilize the SERP as a whole to acquire keywords or search terms.
2. Ahrefs Keyword Tool For PASF And PAA:
Ahrefs is one of the most frequently used marketing tools thanks to its ease of use. A range of keyword suggestions are available with this tool. Moreover, it also contains a database of questions asked in the PASF.
3. Keywords Everywhere Tool For PASF And PAA:
Related keywords and 'People Also Ask' both the databases are available within this tool, thus, making keyword research convenient.
4. Answer The Public Tool For PASF And PAA:

With this tool, an individual can type in a keyword and get complete data set on the questions that people ask related to a specific search term. You can even set a region if you wish to target a particular area in the world.
5. SEMrush Topic Research Tool For PASF And PAA:
It's a dedicated question tab found in SEMrush. Simply, type in a keyword or search term to begin the process. Advanced real-time, accurate data is returned to the user.
6. Frase Tool For PASF And PAA:
It's a tool that helps in building SEO-optimized content by suggesting relevant keywords and questions for your blog. It gathers data from the web by presenting relevant search questions taken from 'People Also Ask', autocomplete results, People Also Ask, Quora, Reddit, and more. With this much data, you can address all these issues in the article and make them more user relevant.
7. Also Asked Tool For PASF And PAA:
Yet another powerful tool for knowing the related search terms associated with a seed keyword. It can be adjusted as per regions and functions. It's an amazing tool to determine what your target audience is searching for.
Source: https://www.ezrankings.com/blog/people-also-search-for/