Russia accuses the West of spreading disinformation on Ukraine
Russia blasted Western countries and media for spreading a "large-scale disinformation campaign" over a possible Russian invasion of Ukraine, saying Friday that they were doing so "to divert attention from their own aggressive actions."The Russian Foreign Ministry statement comes just hours ahead of an expected call between US President Joe Biden and Russian President Vladimir Putin on Saturday, and as the US issued a stark warning that a Russian assault on Ukraine was imminent."At the end of 2021 and the beginning of 2022, the global information space faced a media campaign unprecedented in its scale and sophistication, the purpose of which is to convince the world community that the Russian Federation is preparing an invasion of the territory of Ukraine," the Russian Foreign Ministry said in a statement late Friday.US national security adviser Jake Sullivan warned Friday that a Russian assault on Ukraine could begin soon, including with bombs and missiles. Sullivan advised all Americans to depart the country as quickly as possible for their own safety, echoing the call of a growing number of embassies that are doing the same.While Sullivan said it is not clear whether Putin has decided to invade Ukraine, he said there was a "very distinct possibility" that Russia would act militarily.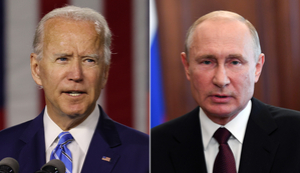 Biden and Putin will talk Saturday as US warns Americans to leave Ukraine in 48 hours over fears of Russian attackThe Kremlin has long denied it is planning to attack and has argued that NATO support for Ukraine — including increased weapons supplies and military training — constitutes a growing threat on Russia's western flank.
RELATED LINKS: